The Guide Said, "Are You Kidding Me. . .?"
By Paul Schwartz
It was the second day of a trade show when a young man came to the booth toting one child in one of those baby backpacks, and another held tightly in his hand.  The hand held child was not cooperating and was causing him a bit of frustration.
Despite the tugging, pulling and ongoing annoyances from his child, this young guy felt it necessary to stop and tell his story. A couple months earlier he had finished his first buffalo hunt, and I could tell by the excitement in his voice that it was a trip that definitely surpassed his expectations. As he described the hunt, and reached the point in the story where they were to start the dressing process, he started talking about using his Havalon Knife.
"When I brought out my Piranta to begin to dress the bison, the guide said, "are you kidding me? Do you really think your knife will be able to handle this animal?" I hadn't used the knife yet, so naturally I questioned its use because of the expertise of the guide, but continued anyway.  As I cut through the belly, cut through the hide, the guide too became more and more interested in what this knife was able to do. We were both impressed, and I came off as knowing something the guide didn't. My Piranta dressed the bull with one blade, including the caping. I will not use another knife."
Are you kidding me?  Add buffalo to the long list of large animals our knife can handle.
In the spirit of full disclosure, and to communicate this story more clearly, I did "quote" the teller with some of my own words. 
About the Author: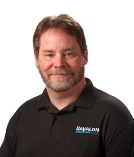 Paul Schwartz is sales manager for Havalon Knives, all-around Great American, and kind of a big deal.
Have you ever been surprised by what a Havalon knife could do?  Share a comment below:
2,074 total views, 1 views today