By Darl Black
Top 5 Bait Options and How to Rig Them
Trout like worms! Don't let the purists blame you for that! As a youngster during the 1960s, I'd plan for Pennsylvania's opening weekend trout season as soon as the last sign of winter snow disappeared. I would retrieve the rods from a dusty corner in the garage where we stored them since fall, wipe them down and strip all the old line from the reels. Next, Dad would then clean and grease the reels.
A week before the opener, Dad and I would shop a local sporting goods shop for fresh 6-pound monofilament line, some new hooks, a jar of salmon eggs and a package of salted minnows. Sometime during that week, it was my responsibility to gather worms from our own little worm farm—several old wooden boards we left lying by the garage.
When it came to trout fishing, Dad was a bait angler. For summertime bass, he had a rusty metal tackle box full of lures, but during trout season the only thing on the end of his line was a worm, minnow or salmon egg. His lessons and my decades of bait experience will help youngsters and novices of any age catch more trout.
So, here's a rundown on five readily available live bait and prepared baits that will prove effective for early season trout.
1.  Worms: Since the earliest annals of angling history,worms have been the iconic bait for trout. The thought of a trout caught on a common earth worm sends shivers through ardent fly-fishermen I know! I tell them not to blame me if trout like worms! I prefer fishing a small 'crawler (the ones walleye anglers would reject) over a skinny little red worm. Using a size 10 or size 8 bait hook, I hook a small 'crawler once though the middle so both ends are free to squirm.
If using red worms, try stitching two worms on the hook, impaling each worm at least twice. Add sufficient split shot on the line about 12 inches above the hook so the worm will slowly drift and tumble along the bottom with the current flow.
2.  Minnows: Small minnows are excellent for trout – especially emerald shiners. However, carrying a minnow bucket when walking and wading streams is cumbersome. Furthermore, live emerald shiners are banned for use on inland waters in several northern states if the source of baitfish is the Great Lakes or another water where viral hemorrhagic septicemia (VHS) has been discovered. (New York, Pennsylvania, Ohio, Michigan, Wisconsin, Minnesota and Ontario have such restrictions in place.) Freezing and thawing does not kill the VHS virus, but preserving dead shiners with salt does.
Ironically, "strung" salted minnows have been a staple of trout anglers since I was a kid. A rigged preserved minnow should be fished with a more active retrieve than drifting a worm. Focus on riffle-like water, casting a rigged minnow upstream then working it with gentle rod twitches on the downstream drift. (For more information on rigging a minnow, check sidebar.)
3.  Salmon eggs: Yep, trout are egg-eaters. Like many other species, trout instinctively recognize that fish eggs are an easily-obtained nutrient-rich meal. Now, I cannot imagine that trout select salmon eggs over other types – fish eggs are fish eggs. But being larger than most fish eggs, salmon eggs are certainly easier to handle. Some anglers insist the hook be hidden completely within the egg, therefore choosing a short shank octopus hook in red or gold to match closely the color of specific salmon eggs.
If that gives you confidence, go with it. I am more concerned with the proper presentation of the egg (or eggs, if you put two small ones on a single hook). As with worms, eggs should drift naturally at the same speed as the stream current. Use of a float can be very helpful, especially when fishing larger water which may demand long casts to reach a fish-holding seam.
4.  Larvae: Don't throw out any left-over insect larvae at the end of ice fishing season. Save 'em for trout season! Readily accessible at most tackle shops, the more popular larvae for trout are mealworms, wax worms and butter worms.
I thread a single larva on a size 12 thin-wire long-shank Aberdeen hook to prevent the bait from easily being dislodged. Use a small float and one BB shot, drifting the rig in slowing tail-out water of a riffle, pocket eddies, or moderate-flow runs.
5.  Dough bait:Since making an appearance on tackle store shelves in the 1980s, floating doughbait has gained popularity among trout anglers. Typically these slow-dissolving concoctions consist of amino acids, hatchery food and a selected scentsuch as cheese or corn. Fish-attracting additives in the mixture have proven highly successful in catching hatchery-stocked trout.
Available in both nuggets and paste, dough baits do not have a reputation for staying on a hook. Therefore you'll want to use specially designed dough-keeper hooks, such as the Uncle Josh Springed Trout Hooks which complement Uncle Josh's new Natura Floating Trout Bait. While many fishermen will use this bait in streams, floating dough bait was designed forthe stillwater of lakes where slowdispersion of scent and flavor can attract trout to one spot.
Special Rigs for Trout Baits
Stringing a Salted or Preserved Minnow—The easiest approach is to spend a couple buckson a Trout Rig kit at a tackle shop. The kit consists of a 3-inch baiting needle and a double hook on a short wire lead. Remove the double hook from the wire lead, slip the wire lead over the slotted eye of the baiting needle. Then run the needle through the mouth of the salted minnow and out the vent. Remove the needle and slip the double hook back in place; adjust the hook and attach your line to the front of the wire lead. Crimp a split-shot on the line about six inches in front of the minnow.
Rigging Dough Bait for Lake Fishing—Slip a 1/8-ounce sliding egg or slip cone sinker onto the line; tie a swivel to the line to act as sinker stop. Snip a 14-inch 4- or 6-pound fluorocarbon from a leader spool and tie to the other end of swivel. Tie a dough-keeper hook on the terminal end of the leader. Bait with floating trout paste or nugget and cast out. Take up slack line so there is tension to the sinker. Put rod in rod holder with some sort of a bite indicator attached to line (perhaps something as simple as a piece of a folded straw) and the bail open.
Bobbers—When using a bobber for trout, choose a small slender stealthy float with colorful tip but clear or neutral color bottom. If drifting bait through swift flows, I recommend a Thill Turbo Master with the thin wire bottom for stability and minimal drag.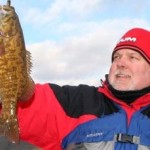 About Darl Black
A lifelong freshwater angler and veteran writer and photographer, Darl tackles a wide variety of fishing related stories for print publications and websites. Of all fishing, angling for smallmouth bass is his favorite pastime. He may be reached for assignment at darlblack@windstream.net.
Download your FREE copy of….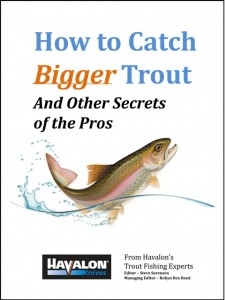 9,162 total views, 3 views today