A Whole Different Kind of Excitement!
By Tracy Breen
When a well-trained turkey dog hits the woods, it is like telling
kids it is okay to open their Christmas presents.
When hunters think about turkey hunting, most picture themselves calling to a strutting tom in the spring. Few people think about tagging a turkey during the latter months of the year, but fall turkey hunting has a longer history than spring hunting. In particular, turkey hunting in the fall with the help of hunting dogs goes back over one hundred years.
Historically, turkey hunting with dogs was a gentleman's sport and often only the wealthy had good turkey dogs. Spring hunting, on the other hand, has been legal only around fifty years – even less in many states.
What Makes a Good Turkey Dog?
Thankfully, today you don't have to be rich to own a turkey dog. I have two, and both are completely enthralled with turkeys. They're not a versatile breed. They don't retrieve ducks; they don't point upland game. What a turkey dog does well is chase turkeys.
The epicenter of turkey dog breeding is Virginia. One of my dogs came from the late John Byrne who developed a line of turkey dogs that is a cross between a coon hound, an English Setter and an English Pointer. The Byrne line of dogs is considered by many to be the best of the best, but the truth is almost any bird dog pup can make a great turkey dog if trained properly.
A turkey dog is trained like a coon hound to cover lots of ground looking for fresh turkey scent, which eventually leads the dog to a flock of turkeys. In a typical day of fall turkey hunting, a dog will cover miles of ground in search of a flock. When the dog finds a flock, they run into the middle of the flock barking loudly. Barking gives the hunter the location of the flock and it helps scatter the flock. When a dog runs into the middle of a flock, the turkeys fly and run in all directions.
Fall Turkeys –
It's About the Flock
When a flock of turkeys get separated from each other, it won't be long until they start calling to each other and head back to the scatter location to reunite. The goal of the hunter is to find the scatter location, sit down there, and call the lost turkeys into shotgun range.
In fall seasons, either sex is legal in most states so many hunters shoot hens or young of the year. Some hardcore turkey hunters try to scatter gobbler flocks only, which often take much longer to reunite. Many old time turkey hunters consider a fall gobbler called to the gun a much greater trophy than a spring gobbler.
A fall gobbler is often quiet, sneaky and call shy. After they have been separated from their buddies, they don't come running to the gun like a spring tom. In fact, many serious fall hunters say you can plan to wait for hours or even a full day after a flock has been scattered before a tom comes back in. Patience is necessary when hunting fall gobblers. Occasionally, fall gobblers come in gobbling and strutting just like a spring tom to exhibit the pecking order to their buddies.
How Turkey Dogs Are Trained
Many have asked me how to train a dog to hunt turkeys. It starts with laying a good foundation.
"Within weeks of bringing a puppy home, I start hiding turkey wings for the puppy to find," says Brett Berry, a pro staff member for Zink Game Calls who owns three turkey dogs. "Like any hunting dog, you continually train them on the thing you want them to hunt. In this case, it is turkeys." When fall arrives Berry hunts often to ensure the puppy gets lot of hunting experience.
Berry trains his dogs to climb into a duffel bag after a flock has been busted. The dog lays motionless in the bag until the gun goes off.
Fall turkey hunting with dogs requires a good hunting dog, decent calling ability and good woodsman skills. In the fall, turkeys don't often vocally reveal their location. They must be found. Knowing where birds roost, what their food sources are and the typical daily patterns of turkeys help put a bird on the ground.
When a well-trained turkey dog hits the woods, it is like telling kids it is okay to open their Christmas presents. They go crazy. Nothing beats the sound of a dog barking in the fall woods followed by the sound of turkey wings.
***
About Tracy Breen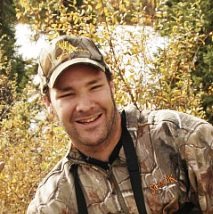 Tracy is a full-time outdoor writer and consultant in the outdoor industry. He works with a variety of outdoor brands and television shows including Havalon Knives and the MeatEater. Learn more at www.tracybreen.com.
For more great articles on turkey hunting, click here.
And click here for the best turkey skinning knife.
4,149 total views, 3 views today