By Darl Black
How to stay warm and dry while fishing in freezing weather!
Fish don't hibernate when cold weather arrives. In fact, several species bite better when water temperatures are in the 40s than they do in the middle of summer. If you want to catch walleye in a Pennsylvania river or pursue trophy smallmouth bass on a Tennessee reservoir during those chilly winter months, be sure to dress for success.
The three keys to remaining comfortable while fishing in the cold include:
(a) insulating clothing that holds warm air in but does not absorb water;
(b) outerwear which prevent rain, snow or wind from penetrating your insulation; and
(c) breathable garments which allow water vapor generated by body heat to escape.
Those properties vary some with each layer you wear, but the proper layering of today's technical clothing can keep you warm and dry while fishing in freezing temperatures. When layering up, it's as simple as 1-2-3 …
Step 1:  Placed next to your skin, the base layer wicks perspiration away from the body. Avoid cheap cotton thermal long johns which actually absorb moisture. Instead, purchase tops and bottoms of high-tech synthetic fibers which allow perspiration to pass through to outer layers.
Base layer options include somewhat loose fitting garments of hollow-core fibers and form-fitting compression garments. What's the difference? Compression-type base layer garments have received widespread notoriety in recent years for active winter sports. But keep in mind that most cold water fishing is sedentary (standing in a stream or sitting in a boat) compared to walking long distances on a hunt. Compression garments may be the wise choice for hunting, but not necessarily for fishing.
Step 2:  An insulating layer has the space to trap warm air but at the same time allow body-generated perspiration in the form of water vapor to pass through. Again, man-made materials provide warmth and breathability without the weight or bulk of traditional wool or goose down.
Quality polar fleece is relatively inexpensive, readily allows water vapor to pass through, retains insulating qualities when wet, and dries very quickly.  Pullovers, zippered jackets, long pants, vests and hats are all available in fleece.
Step 3:  The outermost shell layer must be windproof and waterproof – yet breathable. Properly selected outer shell jacket and pants will prevent rain (liquid water) from passing through while allowing water vapor to ease out. If engaged in some moderate activity, it's likely some condensation will form on inner clothing – but not enough to result in saturation of the insulating layer.
Breathable high-tech materials include proprietary Gore-Tex®, Dry-Plus®, Tech H20®, Foul Tech®, Storm Dry® and likely some newer brands, too. Do not wear outerwear that has rubberized or PVC coating because water vapor will not pass through – you will sweat and soon become chilled.
Adjusting Your Thermostat
Some people can withstand cold better than others. You may require more or less insulation than your buddy in order to maintain the same level of comfort. If you are susceptible to being easily chilled (as I am), try doubling your insulation layer by combining a fleece jacket with a fleece or Thinsulate® vest. During extremely cold days, I replace my usual raingear shell with a Thinsulate insulated coat in addition to a fleece pullover.
Taking Care of Your Extremities
Keeping your head, ears and neck from becoming chilled is vital. The typical fisherman's mesh ball cap does not cut it as cold gear. For a number of years, I've had a trusty fleece cap with ear muffs which is incredibly warm. An alternative is a fleece beanie with a separate headband visor. The bill of a cap or visor reduces glare on the water which, along with polarized sunglasses, greatly improves your line-watching ability and sub-surface vision.
In addition, I always wear a fleece neck gaiter which provides necessary neck protection and can be pulled up to cover mouth and cheeks, or pulled over the back of the head to create a hood. If the afternoon temperature warms suddenly, the neck gaiter can be easily removed in order to cool down a bit.
Keeping fingers warm enough to manipulate reel and line gets a little tricky. When not holding a rod, I wear a pair of full-finger insulated gloves for running the boat. However, when fishing, I switch to rag wool fingerless gloves, which exposes the finger tips. In extremely cold weather, I wear a pair of polypropylene glove liners to fish in – not as efficient as bare fingers for operating a reel, but better than getting frostbite. Although I have not yet tried the new gloves with "Data-Tip Touch Technology" in the thumb and forefinger, they may benefit anglers.
Be sure to carry the small chemical heat packs in each coat pocket so you can take a break from casting every 10 or 15 minutes and warm your fingers. If your insulated gloves are not waterproof, carry a pair of waterproof neoprene gloves for retrieving the anchor rope.
Don't forget your feet! In addition to sock liners and thick insulating socks on feet, place small "toe warmer" chemical heat packs inside insulated waterproof boots. Be sure your boots are oversize to accommodate socks without restricting toe movement; being able to wiggle your toes is critically important to staying warm.
What About Special Circumstances?
When boat fishing: Full face protection is a must. A sports face shield may look like a prop from a horror movie, but it is extremely effective; drill out the nostril holes to allow heated breath to escape easier and treat the lens with anti-fogging spray. Another option is a thick balaclava hood with no-fog ski goggles.
When wading streams:  The uniform of the day includes thick neoprene chest waders coupled with polar fleece pants and chemical heat packs on the toes.
When ice fishing:  Ice fishermen generate a lot of heat when pulling a sled or drilling holes. Be sure to shed some of your insulating layers during these strenuous activities.
---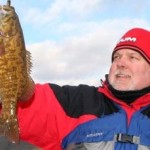 About Darl Black:
A lifelong freshwater angler and veteran writer and photographer, Darl tackles a wide variety of fishing related stories for print publications and websites. Of all fishing, angling for smallmouth bass is his favorite pastime. He may be reached for assignment at darlblack@windstream.net.
---
Like what you've read? Check out more of
Darl's writing here!
4,271 total views, 3 views today