Shotgunning for Deer – Smoothbores and Choke Tubes
By Steve Sorensen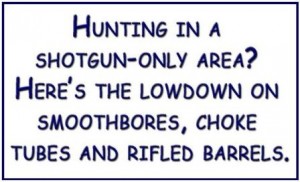 The one time, long ago, when I hunted deer with a shotgun was in North Carolina where I was invited by a friend to join a club hunt. I loaded buckshot into my ordinary Ithaca Model 37. I wasn't one of the enviable hunters who could afford the special version dubbed "The Deerslayer".
Other than that I've done most of my hunting in Pennsylvania, traditionally thought of as a rifle state although a few special regulation areas restrict firearm hunters to shotguns. Some of the Midwestern states that are famous for gigantic bucks mandate shotguns only – Illinois, Indiana, Ohio, and Iowa among them.
In heavily populated eastern states – New Jersey, Delaware, Virginia, Maryland – regulations prohibit rifles. The idea is that shotguns are safer. I'm not about to argue the point, but I will observe that areas where hunters are limited to shotguns almost always produce bigger bucks. Who doesn't envy the monsters from Ohio, Illinois and Iowa?
Without a doubt they get big for more than one reason, but the fact of the matter is that where rifles are prohibited, deer live to older ages. That means more of them become mature enough to sport big racks.
All of that is to say that if you're an antler-addicted firearms hunter, you're likely to have opportunity to hunt with a shotgun. What are your options?
Traditional Smoothbores
My success with smoothbores, as mentioned, was less than stellar. I was the guest of someone in a hunting club, and I was the one who got the shot when the doe unexpectedly raced by in heavy cover ahead of the dogs. I missed. I would have been ready for the second shot if my gun hadn't jammed. The rimmed shell was a tad too large, and resisted feeding smoothly from the tube magazine on my pump shotgun.
As far back as the depression years and earlier (long before my time), many a hunter put whitetails down for dirt naps using 12 gauge punkin balls. Yes, shots were either short range affairs or depended on a measure of luck, because smoothbores plus punkin balls never added up to bragging rights in the accuracy department.
Lots of people will vouch for traditional shotguns, but in their heyday most hunters hunted for groceries, and a dedicated shotgun was economically out of the question. Most of those old-timers have "aged out" – gone to their happy hunting grounds, and their old punkin ball launchers have been retired.
Rifled Choke Tubes
The second choice is a smoothbore shotgun that takes choke tubes. For deer, just screw in a rifled choke tube. These often do an outstanding job.
Virtually all manufacturers of 12-gauge shotguns offer models that use screw-in chokes. My Remington 870 turkey gun with a rifled choke tube was just the right medicine for a good New York 8-point a few years ago. In that case, the pill it delivered was a Lightfield 2¾" Hybred Lite slug. These proved very accurate in my gun.
I heard the buck grunting on the hillside below me on opening morning in the dark. Rustling leaves told me a chase was on and a doe was in the mix. As it got light, I offered a few bleats on my Woods Wise grunt tube, and the doe came as if Wonder Woman was going to rescue her from the bad guy.
If a smoothbore isn't for you, and you want something a little more than a rifled choke tube will give you, stay tuned. Part 2 will cover shotguns with fully-rifled barrels.
***
About Steve Sorensen

Award-winning outdoor writer and speaker Steve Sorensen loves the Havalon knife, and has been a fan of knives since he begged his dad for a hunting knife when he was six years old. His articles have been published in Deer & Deer Hunting, Sports Afield, and many other top magazines across the USA. Invite Steve to speak at your next sportsman's event, and follow his writing on his website, www.EverydayHunter.com.
For more atricles by Steve Sorensen, click here.
And for the best deer skinning knife, click here. 
7,876 total views, 2 views today