Tips For When and Where To Hunt For Your Big Buck
By Tracy Breen
Many diehard hunters believe killing big bucks on public land is a pipe dream. However, killing big bucks on public land is something hunters can do on a consistent basis if they know when and where to hunt.
Joel Maxfield from Mathews Archery spends many days in the field every fall chasing big bucks. His entire family, including his wife and son, hunt whitetails across the country on private and public land. According to him, the key to harvesting big bucks boils down to hunting where big bucks live. "Certain parts of the country hold big bucks and certain parts don't. To kill big bucks on public land you need to be in an area where big bucks live. I enjoy hunting in Kansas and Iowa," Maxfield explained.
Kansas and Iowa are known for holding big bucks. These states have fewer hunters than many eastern states. Less hunting pressure combined with good habitat often results in bigger bucks. "Last year I killed a nice buck in Iowa on the first day of the hunt on a large section on public ground. We got the entire hunt on film for TV. It was great. The hunt didn't cost much money and I was able to kill a nice Pope & Young buck," Maxfield added.
To find good hunting areas, Maxfield relies on topographical maps and aerial photographs. "With today's technology, you can use the internet to locate great hunting areas. I try to focus on big pieces on public land where I can get deep into the woods and away from other hunters. My wife has used a mountain bike to access remote locations," Maxfield noted.
Maxfield advises hunters not to get discouraged if they see several cars parked on a piece of public ground where they plan to hunt. "I've found that public land is used for many things. When I see cars in an area, I realize they could be fishing, duck hunting or several other things. I often walk right by the cars and find good hunting deep in the woods," Maxfield said.
Tom Johnson from West Michigan travels all over the country searching for big whitetails. He hunts in Indiana, Ohio, Nebraska, Kansas and Iowa. He usually hunts on public land and hunts on a budget. "I have stayed in tents and hotels but typically I stay in a camper," Johnson explained. Johnson has killed numerous record book bucks with a bow and gun. He believes his key to success is the result of scouting a lot and hunting for days. "When I hunt out of state, I try to spend at least ten to fourteen days in an area. The longer I spend in a certain state, the more I learn and the better chances I have of bagging a nice buck. When you hunt out of state, the hurdle you must get over is learning an area. When you spend a lot of time in an area, you can really increase your odds of success."
You will notice that Maxfield and Johnson often hunt away from home. Maxfield lives in Wisconsin; Johnson lives in Michigan. If you are going to kill a trophy buck, it might require you to leave your home state but remember that leaving your home state doesn't require you to break the bank. I regularly hunt out of state for under $1,000.
If you learn how to scout, read topo maps, use aerial photographs and are willing to travel, you just might kill the buck of a lifetime.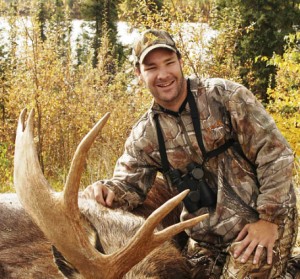 About the author – Tracy Breen is a full time outdoor writer based out of Michigan. Tracy has cerebral palsy and often writes and speaks about overcoming physical challenges. To learn more about Tracy visit www.tracybreen.com
5,267 total views, 2 views today