By Bill Vaznis
3 ways the buddy system increases your odds
of tracking down a buck.
What's the epitome of wilderness deer hunting? Many outdoorsmen think it's shooting a buck you've tracked down in the snow. Who's to argue? Each winter some prodigious bucks are tagged in this manner. Yet more than one buck has escaped unscathed because the buck checked his back trail and saw a lone hunter in hot pursuit.
Indeed, a lone buck hunter has his hands full following a set of fresh buck prints, but another challenging method of filling your tag by following a buck's spoor in the snow is to use the buddy system. Having a partner working just within sight of you and on the downwind side can often tip the odds in your favor.
Three ways to use the buddy system
1.  While one hunter stays with the trail, keeping one eye on the tracks, the partner uses both his eyes to scan the terrain in front and off to both sides of that trail for any tell-tale signs of the buck, such as a flick of his tail, a shiny black nose, a back leg askew and of course his rack. Either hunter might push the buck into the other as they proceed parallel along the trail.
2.  A partner can also come in handy when the buck's trail is lost, especially when the buck mixes his tracks with a family group of does, yearlings and fawns. The buck will take the time to sniff-test the females to learn if any one of them is in or near estrous, and that can lead to a staggering array of tracks and trails to unravel.
The partner can help by looping a quarter of an arc, 90-degrees, looking for the buck's tracks. He stops before he gets out of sight allowing the trailing hunter to make a 90-dgree arc. They continue this back-and-forth strategy until they find the exit trail the buck took, either alone or with a single hot doe.
3.  Having a second set of eyes is also an asset when the buck's trail crosses an opening in the understory, such as a clear-cut, power or gas line right-of-way, a meadow, an abandoned beaver dam or stand of open hard woods. While the trailer stops near the edge of the opening, the partner can skirt the downwind boundary of the opening in the hopes of catching the buck flat-footed or bedded down and watching his back trail.
A real-life example
That third strategy worked like a charm during the late muzzleloader season last year in Maine when New Hampshire resident Jeff MacLauchlan and Vermont resident Dan Masterson were hunting with #9 Lake Outfitters. They awoke to see a bit of fresh snow on the ground and air temperatures well below freezing in the mid-20s.
After an autumn of unusually warm weather, it looked like they would finally have a day when the deer would be up and moving around. With any luck, they would bump into a mature racked buck still in the rut.
MacLauchlan tells the story like this: "We found a set of buck tracks at first light, took up the trail and soon discovered where he had come across a doe. We followed their tracks for about an hour until they got into some real thick stuff. We could see where the buck left the doe, so Dan followed the doe and I stayed with the buck. Suddenly the woods opened up into a large circle of hardwoods. These are the kinds of places where you have to pay close attention. The buck could be bedded on the periphery or on an elevated patch where he could watch his back trail. I stayed still for 15 minutes and then used my grunt tube in an effort to get him to expose himself, but he was not there.
"We crossed to the other side of the hardwoods – about 50 yards – with our eyes wide open looking for the buck. Both deer were meandering now, and we knew he had to be nearby. I followed the buck track around a log and then looked down an old logging road. There he was! At first I thought it might be a moose, but I saw his huge rack and instinctively swung my .50 caliber T/C Encore to my shoulder at about the same time he looked over at me. As I peered through the Bushnell scope I noticed a four inch balsa sapling blocking his shoulder. I moved the vertical line of my scope an inch or two to the right. BANG! A 300-grain Lock-N-Load® Speed Sabot SST ML pushed by three pellets of 777 powder found its mark. It blew a hole dead center through the buck's heart.
"The buck took five bounds away and ran into a tree, then died hugging a fallen log. Measured by my GPS, it was a 117-foot shot. Later we realized the buck was backtracking his own spoor, probably because he heard my grunt tube. He dressed out at 217 pounds and had a heavily palmated one-of-a-kind eight-point rack with a broken ninth tine. Even with short tines he scored 134 3/8 inches."
FOR MORE INFORMATION
For more information about buck hunting in sprawling Aroostook County, Maine:
Contact Louise Merrill and Don Burnett at #9 Lake Outfitters:
Tel: 207.429.9632, www.9lakeoutfitters.com.
***
About Bill Vaznis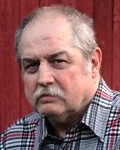 A lifetime of hunting and outdoor writing has put Bill's byline in every major outdoor magazine in North America. He has published over 1,000 articles and columns plus thousands of photographs on bowhunting, big-game hunting and freshwater fishing. Today he owns and edits a rapidly growing digital magazine about bear hunting named Bear Hunters Online. He has also published three how-to hunting books: Successful Black Bear Hunting, 500 Deer Hunting Tips and Still-Hunting Trophy Whitetails. He lives on a farm in upstate New York with Grizz, a 30-pound woodchuck with a voracious appetite for the neighbors' gardens.
For more articles by Bill Vaznis, click here.
For the best deer skinning knife, click here.
4,788 total views, 3 views today