By Cara Hunt
A Good Coyote Hunting Rifle Doesn't
Have to Break the Bank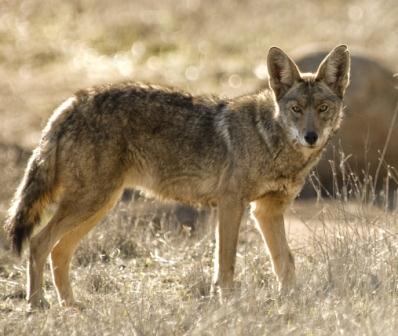 So you've decided to branch out from hunting deer, elk and moose to hunting predators. That's excellent news, especially if you live in areas that have been overrun by coyotes. Hunting coyotes takes skill and practice and can help alleviate problems experienced by local ranchers. However, in order to be successful, you'll need a good coyote hunting rifle. If you're typically into hunting bigger game, the first thing you need to do is put that .30-06 or 7mm in the closet and leave it there. Despite their cunning and viciousness, when you go after a coyote, you are not shooting a bear or an elk. Using large caliber rifles will not end well. If you use a .30-06 or 7mm large caliber, the value of the kill and its hide will decrease drastically because of the large hole that will likely result.
But don't run out to the gun shop just yet. Most coyote hunters use a small caliber rifle with a long range to go after these predators. If you're a hunter already, chances are you have a suitable coyote hunting rifle in your repertoire.
There are literally hundreds of rifles to choose from, but the most popular brands include Savage, Winchester, Ruger and Remington since they're easy to get and they won't break the bank. Bolt action rifles are considered by many experts the most accurate rifles. New hunters should keep this in mind, since most coyote hunters will be forced to shoot their game from a minimum of 200 yards away. Many hunters find that they shoot from 250 yards away when their prey will not come to calls and decoys.
If you're new to the sport or don't own a small caliber rifle, here are the top three coyote hunting rifles you should consider.
.204 Ruger is a popular centerfire rifle that is accurate and efficient. It's known for its ability to hit a target dead-on from 100 or more yards away. For the uncertain hunters and those who are hunting coyote as their first game, this coyote hunting rifle can't be beat.
.22-250 Remington is a high velocity centerfire rifle that is well known for its use in hunting varmints and small game. Even the occasional deer has been bagged with this rifle. This Remington has a sound reputation for its ability to remotely and devastatingly harvest game animals up to mid-size predators. And your shots will be less affected by breezes and strong winds with this choice than with other coyote hunting rifles.
243 Winchester is one of the most popular and widely available coyote hunting rifles in the world today. To date, the only known location where this gun is unavailable is Antarctica. This also means that new hunters will find plenty of service centers and assistance, no matter where they're located. It was originally produced for varmint hunters, but has since gained a reputation amongst those hunting coyotes, black bears, wild hogs and deer, for its accuracy and dependability. However, this choice may be better suited for already trained hunters, since it requires a clean and accurate shot to make its mark from 200 yards away.
A good coyote hunting rifle will make the kill easier and more fun, but a kill usually won't happen on the first, second or even third try. With this sport, practice makes perfect. New hunters should also remember that a good coyote hunting rifle doesn't make a complete hunting kit. Excellent long range scopes like Nikons, sharp hunting knives from Havalon and environment-appropriate camo are all necessities for budding and seasoned coyote hunters.
8,778 total views, 4 views today