by Bill Vaznis
Let's face the facts: Ursus americanus is North America's Number Two big-game animal. Indeed, based on license sales there are more black bear hunters than elk, moose, sheep, antelope, mountain goat, mountain lion, mule deer and caribou hunters COMBINED!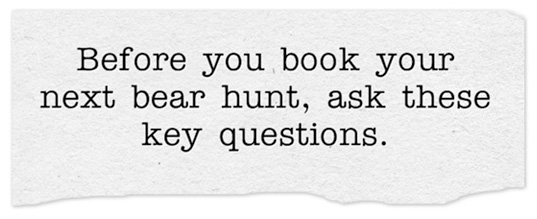 But that doesn't mean booking a trophy bear hunt is easy. Not by a long shot. If you want a quality experience, take your time and do your homework. Here some important topics for questions you'll want to ask outfitters, booking agents and guides.
1. Costs
Don't let surprises creep into the bottom line. Ask whether he charges extra for transportation to and from the airport, or to and from your bait site. Does he charge extra for skinning, butchering and hide preparation? Is there a taxidermist in camp? What are his fees? What about a cooler for meat storage? Is that included in the total package? Are meals provided or do you take care of your own? Are other animals available, such as deer during a fall bear hunt? Are there extra charges for that?
As a rule of thumb, you get what you pay for. Outfitters with big bears in their territory charge a premium price. And conversely, those who can't tell boar spoor from that of a sow will charge you very little… and very little is exactly what you'll end up with after a week in the bush.
2. Number of Hunters in Camp
An outfitter who runs 15, 20 or more hunters a week cannot give you the individual attention you need when you want a bruin for the book. Conversely, an outfitter who keeps it small might charge more, but should be able to go the extra mile for you.
3. Bear Sightings
What happens if you don't get a shot opportunity? Some outfitters offer a return hunt at a reduced price. What is the policy if a bear is wounded and lost? In some states and provinces that constitutes a filled tag and your hunt is over. In other places outfitters go by the same rule.
4. Successful Hunts
What is the sex ratio of bears tagged? Mature boars range far and wide in the spring looking for mates, and are generally the first to be shot over a bait pile, so a preponderance of sows and small boars often indicates an area has been overhunted. The state's or province's big game departments generally have harvest statistics on hand. Ask how long the outfitter has been hunting the area? Does he rotate his hunting grounds?
5. Photographs of Past Hunts
Photos of monster bears on the outfitter's web site help sell hunts. Ask about those bears and when they were tagged. If most photos are a few years old, you should see a red flag.
Also, be sure the bear was taken on his watch! I did some digging at an outdoor show and learned that many of the photographs displayed did not come from the outfitter's camp. In fact, the stuffed bruiser standing erect in his booth was borrowed from another outfitter.
6. Ask For References
References from hunters who went home empty handed are as important as references from successful hunters. Would either group hunt with the outfitter again? Why? Why not?
What other references should you ask for?
Ask for references about guides: Guides are usually employees. Ask references if guides were knowledgeable? Could they sex a set of bear tracks accurately? Did they try to make your hunt enjoyable, or did they sometimes shirk their duties? I had one guide routinely drive his ATV up to my stand during legal shooting hours… until I had a man-to-man talk with the teenage know-it-all. Did they play it safe when transporting you in and out of the bush? I had one guide who must have been an aspiring Indy 500 driver. I freely offered some fatherly advice.
Ask for references about camp life: Was food prepared or was every meal a scavenger hunt? Was there a target range for you to sight in your weapon of choice? Was alcohol permitted in camp? If so, did the outfitter monitor consumption? Were the hunters there to hunt… or drink? Were the sleeping quarters adequate? A couple of years ago I woke up to smoke and flames! The wood stove had no sand in the firebox and the heat caught the tent platform afire.
7. Ask About Down Time
If you get your bear early, what else can you do? Can you leave camp early? At what cost? Can you bring your own ATV so you can do a little sightseeing? Is quality fishing available?
8. Gear Suggestions
If the outfitter recommends you pack long underwear, head nets, safety vest, flashlight or your own back-up firearm, do so. If he tells you to pass up early afternoon shots for a chance at a monster bear, do so. After all, you're paying him for his advice – if you don't take it that might be why you go home bearless!
***
About Bill Vaznis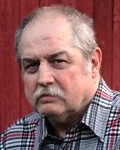 A lifetime of hunting and outdoor writing has put Bill's byline in every major outdoor magazine in North America. He has published over 1,000 articles and columns plus thousands of photographs on bowhunting, big-game hunting and freshwater fishing. Today he owns and edits a rapidly growing digital magazine for bear hunters named Bear Hunters Online. He has also published three how-to hunting books: Successful Black Bear Hunting, 500 Deer Hunting Tips and Still-Hunting Trophy Whitetails. He lives on a farm in upstate New York with Grizz, a 30-pound woodchuck with a voracious appetite for the neighbors' gardens.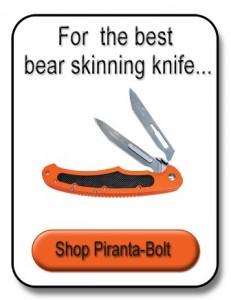 To read more articles by Bill Vaznis, click here…
And read what other hunter's say about their
Havalon knives.
3,150 total views, 1 views today