By Keith Sutton
Crappies are sight-feeders, so how do you
catch them in water so muddy that they
can't see your bait?
One of my favorite crappie lakes is a remote oxbow. My friends and I call it Lake Jekyll and Hyde because it has two completely different personalities.
From summer through fall, the oxbow's water is clear. From winter through spring, the lake undergoes a dramatic transformation. A nearby river rises and spills into the lake, bringing silt and debris with it. Because of this, the lake becomes very muddy.
This wouldn't matter if Jekyll and Hyde wasn't swarming with 2-pound crappie. When the water is clear, my pals and I haven't had any problems, but we used to avoid the lake at all costs when it was muddy. Now, we visit it as often as possible year-round.
We were wrong to think sight-feeders like crappie couldn't find bait in water the color of hot chocolate. If you know how to find and entice crappie in silty conditions, not only will they bite, but you may also catch more fish. By knowing these four simple principles, catching crappie in less than perfect conditions won't be such a chore.
1. Muddy Water Shifts Crappie to Other Senses
Think of muddy water as a night with dense fog. Visibility is extremely limited. Just as ship captains must rely on radar rather than sight to navigate under such conditions, sight becomes of secondary importance to crappie. As visibility decreases, the fish increasingly rely on sound, vibrations and odor to find their meals. Therefore, the best enticements are lures that give off sounds or vibrations. That means live minnows, which produce scent, or lures enhanced with scent products.
2. Muddy Water Moves Crappie to Shallower Water
Muddy-water crappie are also likely to be in shallower habitats because oxygen levels are better where there's more plant growth, and crappie seem to feel more secure in these shallower haunts. In fact, crappie may be so shallow that you can't even reach them with a boat, and you may have to wade to get close enough.
3. Muddy Water Pushes Crappie to Underwater Structure
Additionally, muddy-water crappie usually hold very tight against woody cover features. They're usually rubbing right up against snags, stumps and stick-ups. To catch them, try sliding a scent-tipped jig or live minnow right down the wood, letting it touch the cover object as it descends.
4. Muddy Water Can Be Worth Fishing Anytime
Remember, too, that fishing for muddy-water crappie may actually be best on sunny days. Under other conditions, early morning and evening hours are best. But in silty waters, midday hours are usually the most productive.
How One Expert Angler Applies These Principles
My friend Lewis Peeler of Vanndale, Arkansas often fishes Jekyll and Hyde, and frequently confronts muddy-water conditions both there and in a few of his other favorite lakes. He says crappie prefer the least muddy water they can find, so the first step to finding fish is to scout for more favorable water conditions.
"If the water I'm fishing is muddy, the first thing I do is look for places where the water is just a little more clear — up in creeks, the backs of coves, around beds of green vegetation, places like that," he says. "Crappie are sight-feeders, and even the slightest bit of clearer water improves the chance of them seeing your bait.
"You also should remember that crappie hold much tighter to cover when water is muddy," Peeler advises. "Most of us fish an area quickly, then move to the next spot. But in muddy water, you have to be a lot more patient. Cover the whole 360 degrees around that stump or treetop, and do it much slower than you normally would. Work your bait close to the cover, work it slowly and be very thorough."
Though primarily a jig fisherman, Peeler also keeps a supply of minnows for muddy-water fishing. "It's a good idea to carry live minnows on all your trips," he says. "In muddy water, crappie can zero in on a minnow's scent and vibrations. A jig tipped with a minnow may out-produce a plain jig, so I often try that if fishing is tough."
As water visibility decreases, Peeler follows crappie to shallow water. According to him, many crappie anglers overlook this key fish behavior. "In muddy lakes, I've seen crappie so shallow their fins were coming out of the water," he says. "So I concentrate my fishing close to the banks.
"Catching crappie in muddy water isn't as hard as you'd think," he continues. "In fact, it probably affects fishermen more than it does fish. Be patient, present your lure right in front of them and you'll usually find crappie eager to bite."
---
About Keith Sutton:
Keith Sutton shares all his crappie secrets in "The Crappie Fishing Handbook," his 198-page, full-color book full of crappie-fishing tips for beginners and experts alike. To order an autographed copy, send a check or money order for $29.45 to C&C Outdoor Productions, 15601 Mountain Dr., Alexander, AR 72002. For credit card and PayPal orders, visit www.catfishsutton.com.
---
After catching those muddy-water crappie,
make sure you have the right fillet knife
for the job! Click here: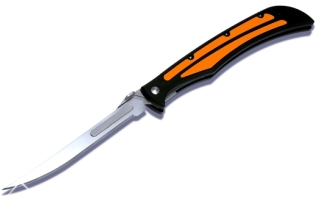 15,277 total views, 13 views today