by Bob Robb
Mistakes made when hunting elk fall into
two categories – skills, and attitudes. 
To avoid the second five mistakes, think about what attitudes need adjusting.
Just who do you think you are? It matters – and can mean the difference between success and failure on an elk hunt.
1. You Think You're Plenty Tough: A guide I hunted with two years ago said it all. "A lot of the clients can only hike around for a day or two, then they're shot," he said. "So when we get a bull bugling, I try and assess whether or not they can physically go get that elk without scaring him off. A lot of the time that answer is 'nope,' so we don't even try. Or I won't take them into a place where I know they can't handle it. Or when the wind is swirling, if they can't move quickly so we can keep it right, we won't try it." To give yourself the best possible chance, start getting in shape months before your hunt. Being in better shape than you think you need to be will pay big dividends.
2. You Think You're Robin Hood: When the heavens smile and present a shot opportunity, you have to take advantage of it. And that usually isn't a broadside bull standing in the middle of a meadow at close range waiting for you to get it together. The bulls are often moving through the thick stuff and you may have only a few precious seconds to make it happen. Bowhunters dream of calling a big bull to within spitting distance, where it turns broadside and there is no brush in the way. That rarely happens. Often the elk is out there 40 or 50 yards with just a small shot window through thick brush and tree limbs, often at a steep downhill angle, and you don't have time to use the rangefinder. Stay within your own personal limitations, but prior to the season spend a lot of time pushing those limits to become a better shot at distance. You'll never regret it.
3. You Can't Take Enough Time: A quick elk hunt doesn't exist. Elk live in big country, and it can take days just to find a bull to hunt. Once you find a bull, the things that can go wrong are endless. If you have to travel any distance to hunt elk, taking less than a full week makes no sense. Ten days is better, and if you can pull it off, allowing two weeks is primo. Bottom line: when your goal is a mature bull elk, factor in plenty of time.
4. You're Afraid to Spook Them: Too many people hunt elk too passively. That is, when they finally locate a good bull, they spend too much time trying to figure out what to do, then watch as the bull walks off. The best way to get it done is find a bull, assess the situation – wind direction and speed, terrain, the number of other elk (and deer) in the immediate area, the elk's attitude, their speed and direction of travel – and when you see a window of opportunity, go for it! When I locate a bull, I try and close the gap as quickly as possible, wait for an opening, then aggressively make my move while continuing to monitor the external variables, adjusting accordingly. Sure, I've blown it. But I've blown it more often by not making a move.
5. You're A Trophy Hunter: Watch the videos and TV shows and read the hunting magazines, and you'll think that a bull that's not a huge 5×5 or big 6×6 is a dink, not worthy of a serious elk hunter's broadhead. Horse poop! In the real world of elk hunting, there's no such thing as a bad bull elk. Heck, even a cow elk can be tough to tag at times. If you're a public land hunter and want to hold out for a bull with lots of bone on his head, that's great – just be prepared to eat some tag soup.
If you never arrow an elk, there's a good chance these ten reasons, or some combination of them, will play a major role in failure. But now that you know them, I'm betting on you.
 ***
About Bob Robb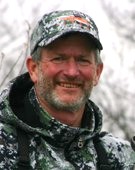 For over two decades, Bob's articles and photographs have appeared in most major outdoor magazines. Currently he is editor of Whitetail Journal and Predator Xtreme magazines. Bob was founding editor of Petersen's Bowhunting magazines, and the author of many books, including The Field & Stream Bowhunting Handbook, and The Ultimate Guide to Elk Hunting.  Bob sees the value of super-sharp, lightweight Havalon knives.
For more articles by Bob Robb, click here.
And for the best elk skinning knife, click here. 
2,300 total views, 1 views today