by Bob Robb
Mistakes made when hunting elk fall into
two categories – skills, and attitudes.
To avoid the first five mistakes, you need to improve your skills.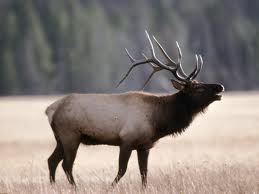 No critter I have bowhunted has been more humbling than hunting wilderness elk on my own. I am not talking about places where elk are thick and killing one is more a matter of being a competent archer than a skilled woodsman – high-dollar private ranch hunts in places like New Mexico, for example, or one of the many game ranches that are springing up like weeds these days. I'm talking about elk that live wild and free across the mountains and badlands, where steep terrain and high elevation strain even a young man's body, the winds are always squirrely, and the brush thick as the summer air over L.A.
I mean, look at the statistics. Even on a guided hunt with an honest outfit staffed with skilled guides, success rates on wilderness fair chase elk hunts are rarely more than 40 percent on any bull. State statistics show that archery elk hunters rarely punch 20 percent of their tags. Despite what you read in the magazines and see on hunting videos and TV shows, taking a mature bull on a fair chase do-it-yourself elk hunt is about as easy as finding a truthful politician in an election year.
Most articles you read on elk hunting tell you how to get a shot. That's great. Here, however, are the reasons why most people will never arrow an elk.
1. You Don't Have A Plan: The best way to hunt elk is to begin with a game plan built around basic hunting strategy designed around the terrain, season, current weather conditions, and prevalent hunting pressure, then be ready to adapt to the activity patterns of the elk themselves. Staying flexible is critical – but the key is to do your homework and research the area months in advance. You won't succeed if you just wander around the woods willy-nilly, hoping to find some elk.
2. You're Not A Wind-Doping Fanatic: You can take this to the bank – elk have incredible noses, and the smell of humans will send them into a panic, every time. When the wind is wrong, do whatever it takes to make it right before moving closer. In mountain country, the wind is almost always swirling or blowing crossways, not perfectly from the elk to you. Heck, if you waited for a perfect wind, you'd never move closer! You must be constantly monitoring the wind, making your move when it lets you and backing the heck out of there when it is wrong.
3. Ants in Your Pants: Elk have incredible eyesight. When you are calling a bull in, they will know the exact tree or bush you've just called from, and they'll be looking for you. Sometimes they come in slow, but if you get impatient and move you can be sure the bull is right there and will see you. When he does, it's adios, amigo. That's why having two hunters working together, one calling and the other set up out front 50 yards or so, is so deadly. The bull comes in looking for the caller, hangs up 50-100 yards away when he can't find that other elk, and whack!
4. You Call Just Fine: If you are going to call elk, you have to become the very best bugler and cow caller you can be, proficient with as many types of calls as you can. The time to learn is before your hunt, not when you get to camp. Most callers need to improve. Most likely, you're one of them.
5. You Call Too Much: Many experienced bowhunters have learned that calling at mature bulls is a great way to ruin everything. Instead, they call rarely, if at all. Often the very best technique of all is to locate the elk, get in front of the herd as it moves to and from bedding areas and food sources, and set up a silent ambush, or set a tree stand over a wallow or water hole.
If elk are on your agenda, get busy and improve your skills – planning, reading the wind, patience, calling and more. But that's not all – next time we'll have a friendly talk about your attitude.
***
About Bob Robb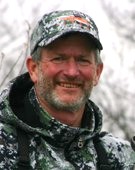 For over two decades, Bob's articles and photographs have appeared in most major outdoor magazines. Currently he is editor of Whitetail Journal and Predator Xtreme magazines. Bob was founding editor of Petersen's Bowhunting magazines, and the author of many books, including The Field & Stream Bowhunting Handbook, and The Ultimate Guide to Elk Hunting. Bob sees the value of super-sharp, lightweight Havalon knives.
For more articles by Bob Robb, click here.
And click here for the best elk skinning knife.
4,767 total views, 1 views today