The Critical Work After Drawing an Elk Tag
by Bob Robb
I had been down this road before, so I knew that having the tag is just the beginning of a long quest at getting a shot at a good bull. Despite what you might think, anyone who accrues bonus or preference points in several states each year doesn't just get drawn, show up, hunt on his own and arrow a big bull or buck. It's no cake walk.
The truth is, the competition out there is fierce. That's why, even though I have 40 years of serious on-my-own western hunting experience under my belt, without hesitation I called my friend Gary "Goose" Howell of Flagstaff, Arizona (www.howellwildlifeoutfitters.com; 928-606-3021) and booked his services.
Goose has outfitted in this region for more than 20 years. Both he and I know that's long enough to see the game change. He has adapted, and knows how to make his clients highly successful. So when he talks about what it takes to score on a trophy elk, I listen.
About Pre-Hunt Research…
What Goose Howell says: It has become increasingly difficult to draw a top-quality, high-demand hunting permit on public land. It's imperative to implement a plan and conduct your due diligence if you hope to be successful.
What Bob Robb says: Either a hunter must do all of the research and his own pre-scouting, or hire a qualified, experienced guide/outfitter to do the work for him. This is critical! Skipping this will lead you to certain failure and disappointment.
About Outfitters…
What Howell says: Even if you opt to hire an outfitter, you must make sure he knows and has successfully hunted that specific hunting unit, what class of trophies his clients have previously harvested there, and thus what you should expect the opportunity to harvest, given your goals, weapon proficiency and physical condition.
What Robb says: The importance of this cannot be overemphasized! It is also imperative that the outfitter and his guides are available to pre-scout everything and do everything for you, so you may make the most of your hunting opportunity.
About Your Odds…
What Howell says: It has never been more difficult to draw a quality permit and then actually harvest a trophy-class animal on the hunt. It is highly competitive out there.
What Robb says: Even the experienced local hunter must put his time in to expect to have even a reasonable opportunity to see and harvest a trophy-class animal. For the nonresident tag holder it will be doubly difficult.
About the Demands of the Hunt…
What Howell says: Never forget that public land hunts require dedication on many levels. You must be in the best physical condition possible. You must be mentally tough. You must stick with your goal to harvest the best trophy possible, win, lose or draw. You must be qualified and proficient with your hunting weapon, and commit the time necessary to get the most out of your top-quality, high-demand hunt!
What Robb says: Just because you drew a great permit does not mean there's anything automatic about harvesting a big trophy. To maximize your chances requires dedication and a well thought-out game plan.
And so, I hired Goose and began preparing myself and my gear. I added to my regular physical fitness regimen so that by opening day I would be able to go hard all day, every day, for the entire 14-day season, if necessary. I tuned two bows to shoot medium-weight Beman ICS 340 shafts tipped with 125-grain Thunderheads. By opening day I was dialed in. I juggled my work schedule so I had the whole season off.
The result? On day four, after being in the middle of several big bulls every day, I arrowed a 361″ monster at 27 steps. I also watched several nonresidents who had the same tag struggle mightily trying to hunt on their own. Because we scouted the unit hard before the season, we knew where the bulls were, and we had a game plan. My guide, Jon Vance, and I used Jon's GPS to keep track of the ground we covered. In four days we hiked 48 miles. It was the best elk hunt of my life.
So, you can forget the mysteries and myths—the truth is that getting the tag is just the beginning. You must be willing to work harder and smarter than the other permit holders and their guides, or chances are the season will end and you'll wonder what the heck happened.
Click here for more articles on elk hunting by Havalon's pro's.
[hs_action id="6924″]

***
About Bob Robb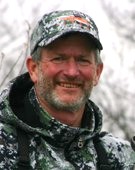 For over two decades, Bob's articles and photographs have appeared in most major outdoor magazines. Currently he is editor of Whitetail Journal and Predator Xtreme magazines. Bob was founding editor of Petersen's Bowhunting magazines, and the author of many books, including The Field & Stream Bowhunting Handbook, and The Ultimate Guide to Elk Hunting.  Bob sees the value of super-sharp, lightweight Havalon knives.[hs_action id="7638″]
5,459 total views, 3 views today