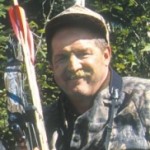 By Bill Vaznis, Editor of Bear Hunting Magazine
 TREESTAND RULES
For best results, locate a suitable tree for your tree stand BEFORE beginning your baiting operation. On more than one occasion I have visited a hot bait site teeming with big bear sign only to realize there was not a suitable tree nearby to erect a tree stand. Even if you choose to hunt at ground zero, you must pick a shooting location first before you start your baiting operation.
Your chances are best from an elevated platform. Your goal then is to erect a stand 12 to 15 feet off the ground, and no more than 20 yards from the bait. You also want to approach your stand quietly without going near the bait.  If a big bear knows you've have been at the bait recently, he may very well retreat until after dark. Keep in mind that once a bear claims a food source as his own, he often camps out nearby. Thus any noise out of the ordinary such as the clack of metal or the squeak of a tree stand will raise his suspicions. Here are some more tips to consider.
Pick a large tree with many branches to help camouflage your silhouette and then position your stand so that you can shoot from a sitting position.
Whenever possible, establish a "staging area" for yourself. This will allow you to check the bait site from afar using a pair of binoculars without stinking up the site with your stench. This also helps keep unwanted noise to a minimum.
Force the bear into a broadside or quartering away angle by cribbing the bait with logs, stones, etc. Any other shot angle is dangerous and unacceptable.
A dilemma often presents itself when it comes time to exit the stand. On the one hand, you can tip toe out of there hoping that if there is a bear nearby, he won't hear you and thus ruin the surprise you have in store for him. Or, you can make a fair amount of noise, as if you are replenishing the bait barrel, and then be on your merry way. Your goal is to exit the scene without tipping the bear off to your intentions. You don't want to be so quiet however you inadvertently come face to face on the exit trail!
Bill Vaznis for The Havalon Post
1,823 total views, 1 views today