By Tracy L. Schmidt
Shore dinner leads to romance and
a family-favorite panfish recipe!
Do you still remember who first took you fishing? My grandfather, William J. Macintosh, took me. We were at Cape Cod in Massachusetts and tossed a line in for fun off some rocks. I caught a pair of crabs that became tangled in my line. I tell you, those were the best darn crabs I ever saw. I was so excited and was hollering so much about my pair of crabs that you would have thought I caught a world record fish.
How my grandpa got those things untangled and tossed back into the ocean I couldn't tell you, but I bet he would tell you it was all worth it to see the smile on my face. Especially since several decades later it's still fresh in my memory.
Now let's fast forward to the man who taught me how to catch bluegills and crappies, my husband Daniel E. Schmidt. When we were dating he took me to a remote wilderness lake in northern Wisconsin where we fished from a rowboat alongside the loons. It was an amazing experience to be alone on the lake in the sunshine, catching our dinner. Dan taught me how to clean and cook fish as well. I must give credit where credit is due. The following recipe is the result of almost fifteen years of shore dinners.
I like the coarser texture of this breading, and the simple list of ingredients makes it great for a road trip. Plain flour tends to flake up more than this blend. By salting and peppering the fish before breading, it tends to hold the seasoning better. Frying in peanut oil produces a crisp coating that's nicely browned.
Ingredients:
Peanut oil for frying
1/2 cup milk
2 eggs
Table salt
Pepper
1 teaspoon garlic powder
1 cup flour
1 cup flake cereal crumbs
Quart-sized plastic zip bag
Instructions:
Heat oil in large heavy pan until 365°F. Warm oven to 200°F and line a baking sheet with paper towels to keep fried fish warm between batches. Crack the eggs into a shallow bowl and beat them with a fork; then add the milk and mix together.
Pat the fish dry and season with salt and pepper. Put the flour, cereal crumbs and garlic powder in a plastic zip bag and mix. Dip one fillet at a time in the egg mixture, then place in the bag, zip it shut and shake. Repeat the dipping and coating so each piece of fish is coated twice.
Deep fry the fillets until they are crispy and brown for 3 to 4 minutes. Transfer each batch to the baking sheet to keep warm until you are done frying the rest of the fillets so they will remain crispy.
---
About Tracy L. Schmidt: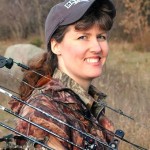 Tracy L. Schmidt is a certified master food preservation specialist and the author of the book "Venison Wisdom." Each of her recipes is tested and perfected. She is married to Daniel Schmidt, editor in chief of Deer & Deer Hunting magazine and host of "Deer & Deer Hunting TV" on NBC Sports. Tracy enjoys the versatility of Havalon Knives in both the kitchen and the field.
---
Need a fillet knife for your next catch?
Check out our Baracuta line below!
Click here: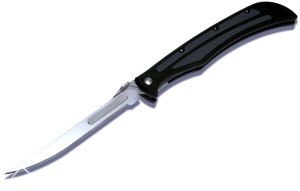 3,170 total views, 6 views today