By Bob Robb
Fitness is a numbers game – keeping track of the numbers will surprise you with the progress you're making, and encourage you to keep reaching your goals.
While each individual will have unique needs and abilities, likes and dislikes, here is a basic jogging program that will markedly improve your aerobic capacity in just 12 weeks. The first chart below is designed for both men and women 30-49 years of age who have not been regularly exercising, but have been cleared by their physician to begin an exercise program.
The time goals are designed to be met at the end, not the beginning, of the week. A walk is defined as covering a mile in longer than 14:00 minutes; walk/jog 12:01-14:00 minutes/mile; and jog 9:00-12:00 minutes/mile.
It is best if you run or jog on non-consecutive days. On the days in between aerobic work-outs, you can incorporate your calisthenics and/or weight training regimen. And while you never want to go too many days between work-outs, taking a day off once a week will help your body recover fully, plus it will actually enhance the training effect of your program.

(Statistics in all three charts are from "The Aerobics Program For Total Well-Being", by Dr. Kenneth Cooper, MD., M.P.H., M. Evans & Co., New York, 1982.)
***
About Bob Robb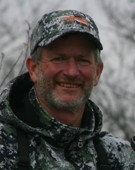 For over two decades, Bob's articles and photographs have appear in most major outdoor magazines. Currently he is editor of Whitetail Journal and Predator Xtreme magazines. Bob was founding editor of Petersen's Bowhunting magazines, and the author of many books, including The Field & Stream Bowhunting Handbook, and The Ultimate Guide to Elk Hunting.  Bob sees the value of super-sharp, lightweight Havalon knives.
For more articles by Bob Robb, click here.
And don't forget the best skinning knife for that bull elk. 
5,099 total views, 1 views today