By Max Prasac
A hog hunting expert answers questions about the proper firearm for a big ol' pig.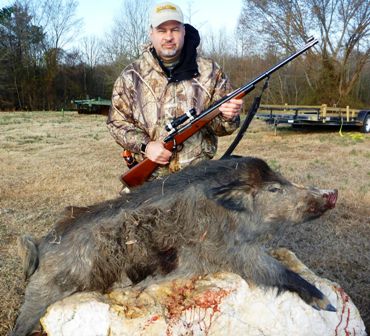 I have to admit that I harbor dreams of Africa. What hunter doesn't? A number of years ago I was determined to hunt Africa, so the first logical step was to acquire a rifle that was up to the task of taking the biggest and most dangerous animals Africa has to offer. I bought a custom-built Mauser bolt-action rifle in .416 Remington Magnum. Not a gun for plinking, no fun off of the bench, and even less fun to feed (on the wallet, that is). But I would get to Africa… eventually!
Fast forward a number of years, a mortgage, a family, bills to pay, mouths to feed, and African dreams get filed away to a corner of the mind you rarely visit. But that elephant gun? You can still use it on hogs! OK, the outfitter will look at you funny when you start loading cigar-sized rounds into your rifle. But my outfitter already thinks I'm crazy – particularly when I showed up in camp with a rifle, when he knows me primarily as a handgun hunter.
Why such a big gun?
Isn't a .416 a bit much? Isn't it overkill? Isn't it TOO MUCH gun? Why use such a big caliber on hogs? Well, why not? Yes, it kills on both ends, but it makes for really potent hog medicine. Is it necessary to hunt hogs with such a large caliber rifle? Nope, they don't wear Kevlar vests—at least not yet—and are a bit smaller in stature than elephants and Cape buffalo.
What ammo for a big gun?
Before I booked my hunt with Hog Heaven Outfitters of Johnston County, North Carolina, I contacted Mike McNett, president and CEO of Double Tap Ammunition and talked to him about my upcoming hunt. He loads the .416 Remington in a number of different flavors, and I settled on the lightest loads, throwing a 300 grain Barnes TSX at a scorching 2,920 fps. Should be enough for hogs… so I ordered up a box. Why not? Do you see a pattern here? Light load? In a big gun, doesn't matter!
What gear for a big gun?
First I mounted an Ultradot 30 red dot on Warne scope bases, using the supplied rings from Ultradot. After a morning range session to get reacquainted with my rifle, I was ready for the hunt.
Arriving in camp an hour before dark, outfitter Milt Turnage handed me a flashlight and told me to strap it on to my red dot sight. The light came with a contoured base and a Velcro strap, and is called a "Kill Light," produced by Elusive Wildlife Technologies, a company out of Texas. The red light purportedly doesn't spook the hogs, enabling you to hunt in the dark. I was skeptical, but I mounted the light and headed out to my stand for the evening.
Too big for a pig?
All was quiet till about 9:15 when I heard slight rustling of the brush about 50 yards to my left. The movement seemed too careful and quiet for a hog, but you never know. So, I cranked up my Ultradot, flipped the switch on the Kill Light, and bathed in the red light was a big boar hog. I took the shot that was offered me, a less than perfect shoulder shot with the animal quartering towards me. When .416 barked, the hog crashed off into the North Carolina swamp. My ensuing investigation revealed no blood, and no hog. Did I miss?
After turning up no evidence of a hit, I headed back up to my stand. Maybe the hog would come back knowing I'm evidently no great shot with a rifle. Boy, I was never going to hear the end of this back at camp. Milt and his crew came to pick me up and with our flashlights we searched the area. Nothing. That's when the teasing started. I swallowed my pride, went to bed, and got up at the crack of dawn. The stand I was sitting on in the morning was about 100 yards from last night's scene of embarrassment. When no pigs made an appearance (they must not have heard about my shooting prowess), I climbed down and went back to where I hunted the night before. It took all of ten minutes for me to find one large, and very dead boar, with a .416 caliber hole through him. He made it only about 25 yards from where I shot him. Guess I'm not so bad with a rifle after all.
OK, so why the .416?
You don't have to have a good reason to use a particular firearm for wild hog hunting. If you have a rifle that gets little use, collecting dust in your safe until you are able to realize your African, Alaskan, or fill-in-the-blank dream, why not use it to knock over a pig? You might as well clean it up, order up some ammo, get reacquainted with it and then put some pork chops in your freezer. No reason is as good a reason as any. When asked why, simply reply: Why not?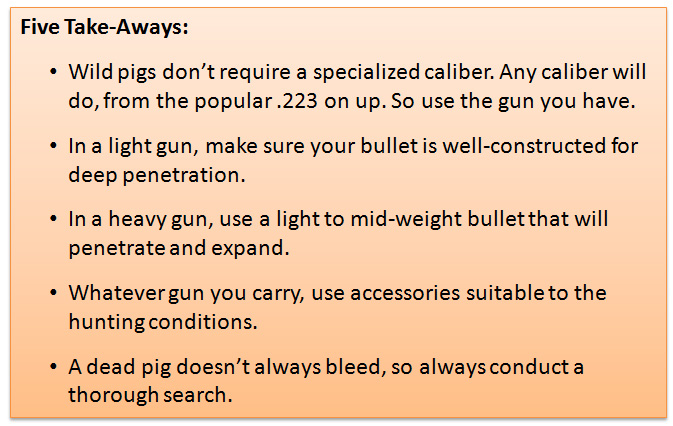 ---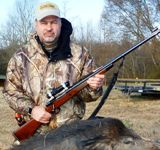 Max Prasac is an outdoor writer with columns in Bear Hunter's Online magazine. He's a regular contributor to the NRA's American Hunter as well as a frequent contributor to Gun Digest magazine. He is also the author of Gun Digest's Big-Bore Revolvers and the Gun Digest Book of Ruger Revolvers.
---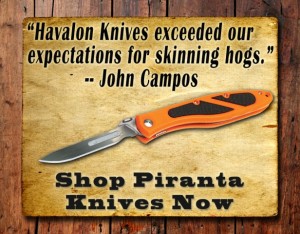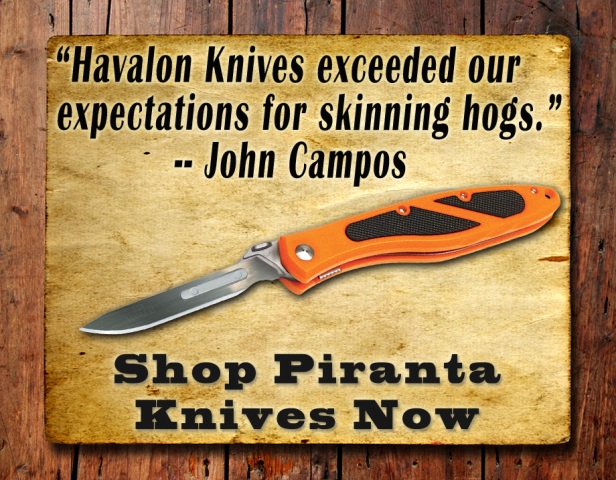 3,082 total views, 4 views today