By Tracy L. Schmidt
Once you try this panfish recipe,
you might want to go fishing every day!
My family likes to eat fish on a regular basis, so we love catching crappies in the spring and early summer. These delicious fish love to hide around areas with structure, and it takes the right touch to get them hooked. They may take a little effort to catch, but they sure do taste great. Bluegills also work perfectly for this recipe, although it takes more of them to feed the family.
The real crunch in this dish comes from the almond topping. The basic flour breading gets crispy and flaky but the almonds really add something special. We like to eat our fish with homemade coleslaw and rye bread, or with a baked potato and salad on the side. I like to use sea salt with this recipe rather than table salt but either one can be used.
Ingredients:
Peanut oil for frying
Sea salt
Pepper
2 eggs
1/2 cup milk
Pan fish fillets, skinned
1 cup flour
6 tablespoons butter, cut into 1/2-inch pieces
3/4 cup sliced almonds, chopped finely
1 teaspoon dried parsley
Instructions:
Heat oil in a large heavy pan until 365°F. Warm oven to 200°F and line a baking sheet with paper towels to keep fried fish warm between batches.  Crack the eggs into a shallow bowl and beat them with a fork. Then add the milk and mix together.
Pat the fish dry and season them with sea salt and pepper. Put the flour in a shallow baking pan. Dip one fillet at a time in the egg mixture then dredge in the flour. Repeat dipping and dredging so each piece of fish is coated twice.
Deep fry the fillets until they are crispy and brown for 3 to 4 minutes. Transfer each batch to the baking sheet to keep warm until you are finished frying the rest of the fillets.
When the fillets are done, melt the butter in a small pan. Add the almonds and coat them with the butter. When ready to serve, spoon almond topping onto fillets.
Serving suggestion:
This is a little different than the standard Friday night fish fry meal. I serve this fish with fresh lemon wedges, twice-baked potatoes and steamed asparagus when it's in season.
Nothing beats sitting down to a nice plate of fish and your favorite beverage, to relive special moments talking about favorite fishing spots, lures and family legends.
---
About Tracy L. Schmidt: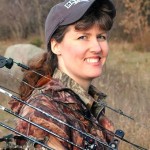 Tracy L. Schmidt is a certified master food preservation specialist and the author of the book "Venison Wisdom." Each of her recipes is tested and perfected. She is married to Daniel Schmidt, editor in chief of Deer & Deer Hunting magazine and host of "Deer & Deer Hunting TV" on NBC Sports. Tracy enjoys the versatility of Havalon Knives in both the kitchen and the field.
---
Don't forget to download your FREE copy
of our crappie fishing eBook!
Click here: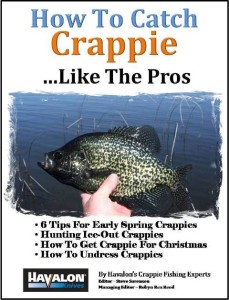 2,057 total views, 4 views today