By William Clunie
7 strategies that guarantee life-long fishing success.

When I first started guiding fly-fishing clients I thought I would be the one doing the teaching. After twelve years of guiding on the Androscoggin River in western Maine, I find that the experience has been one big fly fishing lesson for me, the guide.
Some anglers I've guided were new to the sport and needed instruction, but most had fished exotic places around the world and brought all that experience with them. The only real instruction I gave these expert anglers was where to catch the fish and, maybe, how to fish a certain piece of water. They taught me these seven critical lessons.
1. Fly Fishing Requires Flexibility
The number-one thing that impresses me about knowledgeable anglers is an ability to be flexible. Like the swirling current, they are able to go with the flow and easily make changes where necessary. Their ability to constantly maintain an open mind to new ideas allows them to key in on fishing techniques that work in a variety of situations.
One well-traveled fellow, Pennsylvania angler Bill Cope, exemplified this flexible attitude to the extreme. After successfully fishing with me for one year Cope assumed the following year would be the same. After a few hours of failed angling using my tried-and-true method for catching huge smallmouth bass on top-water flies, Cope politely acknowledged my guiding abilities, but realized some changes were in order.
The veteran angler pulled a trick from his extensive bag of angling deceptions. He started switching flies at a rapid rate. He'd try one fly for a few casts and then snip that one off to tie on another until one streamer started working and he began hooking big fish. The only difference in the one fly that worked was a little bit of copper-colored flash added to the tail. By thinking outside the box, Cope started hauling in one fish after another.
Experienced anglers don't get to this amazing level of angling by chance – just like a successful pro athlete, they practice with extreme intensity.
2. Push Your Fly Fishing Skills
New fly-rod enthusiasts must constantly push their skill levels. Even experienced anglers understand that when their fishing ability settles in at a level of comfort, there is still room for improvement.
3. Improve Your Cast
Casting lessons improve even the most experienced fly fisher. Each instructor views your technique from a different perspective and can tweak your individual rod-handling traits to enable you to get the most out of your angling experience.
4. Know Aquatic Life
Seminars on aquatic life also enlarge a fly angler's ability to reach higher performance levels. The more you know about the foods fish consume, the better prepared you are to adapt your offerings to the environment the fish live in.
5. Fine-Tune Your Fly-Tying Ability
Taking classes on tying flies enlarges the knowledge base of anglers at all levels. It may be easier to purchase expertly tied flies, but tying your own pushes an angler up the learning curve. Full attention to every detail of every fly not only satisfies a creative urge, it also gives an angler a better understanding of how fish see and think.
6. Look at Other Anglers as Teachers
Join a local fly-fishing club and have some fun exchanging techniques with like-minded fishing enthusiasts. Veteran anglers understand that fly fishing is an endless learning process. The best fly rodders around embrace the fact that they'll never learn it all, and that being a willing student is the key to achieving a higher level of success on the water.
7. Relax…
Fishing Should be Fun
Finally, even the most polished fly caster understands that sometimes fish just don't cooperate. Throwing everything you know at them and coming up short is part of the game. Study hard, practice with intensity, but fish with a relaxed and open mind. After all, fishing should be fun and not some kind of driving, competitive angst. Catching the big one is a worthy goal, but learning that a fishless day can be satisfying assures lifelong angling pleasure.
***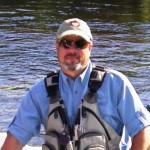 About William Clunie
A registered Maine master guide, outdoor writer, and nature photographer, author William Clunie is "living the dream" in the rugged mountains of Western Maine. He can be reached at: william.clunie@gmail.com.
Click here for more articles on fishing by Havalon's experts.
[hs_action id="7208″]
1,122 total views, 5 views today