Part 1 – Finding and Ambushing Fall Turkeys
By Judd Cooney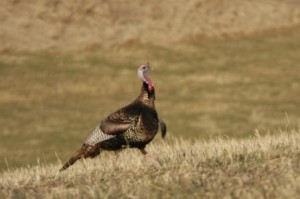 Fall turkey hunting is a whole different ball game than spring turkey hunting.  In spring, gobblers fill the woods and fields with their gobbling making them easy to locate.  That's when toms are hot, horny and gullible to seductive hen yelps, cutts, purrs and cackles.   However, fall turkeys are usually found in two groups:
flocks of hens and their full grown poults
bachelor groups of long beards or jakes.
While toms don't gobble much in the fall, they respond silently to the right calls at the right time and place.
Fall turkey hunting isn't as popular as spring hunting and this means a lot less hunting pressure during this season, a definite bonus to turkey hunters.   A lot of states have liberal fall seasons and many allow either hens or toms.  Some of the western states even allow the use of rifles during the fall season.  Make sure you know the laws in your area.
Secret #1: Where To Locate The Turkeys
Turkeys are birds of habit and often use the same feeding, roosting, loafing area or waterhole at near the same time day after day.   They generally move along the same routes to and from such areas with predictable regularity making them susceptible to calling or an ambush.  If you can pinpoint a key feeding, watering or loafing area you are half way to a Thanksgiving or Christmas turkey dinner.
Secret #2: Ambush Near Water
My favorite ambush location is a waterhole or other water source such as a creek crossing or spring seep. Such primo watering areas will be liberally trod with turkey tracks leaving little doubt about their preferability. During the cooler fall days, turkeys generally water at least once a day, usually in the evening before going to roost. In some areas of the country and when the fall weather is on the warm side fall turkeys will water morning and evening generally at nearly the same time every day.
Secret #3: Use A Blind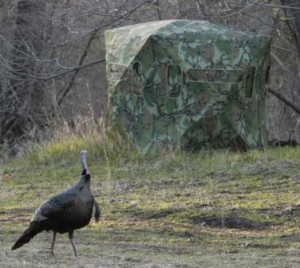 A pop-up ground blind is an ideal way to ambush fall turkeys in any location. Unlike four-legged critters with a discerning sense of smell and larger brains, turkeys pay little heed to a newly erected blind, even set in the wide open. I've had them walk within a few yards of a pop-up blind set up an hour earlier. This is by far the best way for a bow hunter to skewer a fall bird and works equally well for firearm hunters. A blind is especially effective with young or neophyte fall turkey hunters as it gives them an extra measure of undetectable movement. Using a blind in combination with a couple decoys in a feeding area or loafing location is one of the most successful ways to call fall turkeys.
Next post: Secrets to Calling Fall Turkeys
---
Check out Havalon's complimentary "Ultimate Guide to Deer Hunting Success" including:
3 essential tactics for filling your deer tags in early season heat
4 techniques to guarantee you find trophy bucks during the rut
3 secrets to setting up on a mature buck's late season food sources
Plus, scores of other tactics only the most seasoned hunters know. Just click on the image below:
1,820 total views, 1 views today