By Mike Marsh
What goes up must come down … safely!
Deer hunters achieve a primary goal when they bring a nice buck home, but hunters have an infinitely more important, mostly unstated goal. That goal is for the hunter himself to make it back home safe, with or without a deer. A large percentage of hunters use self-climbing tree stands to gain the height advantage whitetail aficionados love, but it is that very height which poses a serious risk to anyone unfortunate enough to fall. Here are seven tips — no, let's call them rules — that will help a treestand hunter come home without injury.
1. Pick the right tree
This means way more than placing your stand in a tree that yields the best shot opportunity. The tree must be straight and free from knots, cat face scars, bends, hollows and large limbs. It must also have bark that is not so slick or scaly that it prevents a solid, non-slip grip with your particular stand. (This means beech, poplar and smooth-bark hickory trees are often unsuitable.) Hunters should also avoid trees with sticky sap. Pines and some other species can drip and ooze sap onto stands, weapons and clothing. Sap can glue your boots to foot sections and your pants to seat sections. If you get sticky with pinesap, Pine-Sol cleaner removes it without damaging stock finishes or plastics and leaves a pine scent.
2. Never, ever climb a power pole
Hunters have been electrocuted by static electricity discharges after they set up stands on power poles. Power poles are also hard and have no bark to provide a gripping surface, and they often ooze creosote that poses an extra slipping risk.
3. Choose a stand rated for your weight and size
Your stand must also be light enough to use without straining ankles, legs and knees. Worse than the challenge of climbing with a heavy stand is joint pain and tired muscles, which make you unsteady and take your attention away from focusing on safety.
4. Use a tether
A Hunter Safety System (www.huntersafetysystem.com) harness system is one of the best ways to tether yourself to the tree to arrest your fall. It includes a vest or harness with a tether, as well as a lineman-type climbing strap. Most hunters use the tether with self-climbers, as shown in the company's product videos, by loosening it, sliding it and tightening it again in coordination to the stand's rhythm while moving up and down the tree. Another great tether is the Q-Safe — which is a spring-loaded nylon strap that snaps snugly to the tree and stays there on its own. Just open it, slide it up and it automatically grips the tree when you release it. It's called "Q-Safe" because it's not only safe, it's quick and quiet.
5. Carry a suspension relief strap
The Hunter Safety System suspension relief strap allows a hunter who experiences a fall to take the pressure of the harness off his legs and body by providing a foothold that also helps in re-entering the stand. Carry the strap in an outer pocket of the supplied mesh bag. Better yet, attach it to the appropriate rear harness loop before the climb.
6. Tie foot and seat sections of your stand together
One of the worst situations for a hunter is losing control of the foot portion and watching it slide down the tree. The hunter can prevent this by tying the two sections together with at least one length of string and preferably two, one on each side. Every hunter should practice setting up his stand and using it, including recovering the foot section, from the lowest height possible with an assistant watching and ready to help.
7. Accessorize your climb
Many hunters fail to think of other common sense safety accessories they should carry in case of an emergency. Every treestand hunter should carry:
at least one screw-in step to help in re-entering the stand if you fall.
a saw for trimming tree limbs — the Havalon Baracuta Bone Saw is compact and works great. (Never use a chopping tool that could upset your balance.)
a cell phone, or a safety radio if your partner has one. Keep it in an outside pocket where it's easily accessible.
a line to haul up weapons and other gear after you are securely fastened in the tree.
a flashlight to use as a signaling device.
a loud whistle you can easily access to get someone's attention if you need help.
Finally, never carry gear up the tree as you climb. Leave it on the ground and haul it up later, even if you must use multiple lines. Extra gear can destabilize the balance of a self-climber by adding weight you must accommodate, which is magnified by the stand's leverage. Fussing with extra gear may also take your mind away from focusing on safety.
Know these rules, because it's up to you to make treestand hunting safe and sound so you return from every hunt to those you love.
---
About Mike Marsh: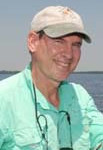 Mike Marsh, a freelance outdoors writer from Wilmington, N.C., has written thousands of hunting and fishing articles for newspapers and magazines as well as four books, including "Fishing North Carolina." ($26.60 ppd. check or MO, 1502 Ebb Drive, Wilmington, NC 28409). His columns appear in Raleigh, Wilmington, Goldsboro and other N.C. and S.C. newspapers. To contact Mike, read his latest posts or order his hunting and fishing books online, visit www.mikemarshoutdoors.com.
---
Sign up for the Havalon Nation today!
[hs_action id="10664″]
2,328 total views, 3 views today