By Tracy L. Schmidt
That favorite woman of yours —
what will draw her to becoming a hunter?
Part 2: Sustenance, solidarity and self-respect
*If you missed Part 1 of "6 Ways to Get a Woman into Hunting," you can read it here.
4. Teach where food comes from
One great reason to get into hunting is to comprehend where your food actually comes from, and to respect the sacrifice an animal makes as it becomes sustenance for you. It seems to me that allowing an animal to live the most natural life possible before it becomes food should be important to everyone.
Hunting is a huge contrast to the conditions large-scale commercial farms create for animals before you pick them up on a foam board in a supermarket. The hunter respects the animal by letting it have its freedom until it dies, and fair chase means it has a chance to escape. Dan helped me to look past steaks wrapped in plastic and see that hunting treats animals in a far more humane way than commercial meat processing. As a woman, I don't pass the responsibility for what I eat to someone else, and I have a philosophy about meat I wholeheartedly support.
5. Show that deer camp is not a boy's only club
Another great thing my husband did was teach me about other women hunters. I'm talking about real women hunters — not wannabes, but women who stand on their own as hunters, gals including Alabama's Tes Randle Jolly, Tennessee's Joella Bates, Illinois' Vicki Cianciarulo and Iowa's Kandi Kisky. I especially loved the way Randle Jolly paid homage to her dad. Family and friends are great motivators. Many of the great women hunters were inspired by them.
To me it was empowering to see other women who had an undisputed place at hunting camp, and to see that hunting binds woman and men in solidarity. I decided I had every right to earn my place there, too.
The population of women hunters is growing by leaps and bounds, forcing manufacturers to offer clothing and gear to make anyone comfortable in the field, man or woman. I even have pink on my bow (although I have to say the color accent doesn't affect the quality of my shot one way or the other).
6. Instill pride
As you guide that new enlistee into the ranks of hunters, you are also giving her a role to play in the greatest conservation movement in history. No continent on earth has a better model for wildlife management than North America. We truly have something to be proud of because hunters have made sure wildlife is abundant — and accessible not only to hunters but to non-hunters. The role hunters play in the welfare of wildlife is without parallel, and people need to know about it. Who hasn't seen a deer? Who hasn't enjoyed songbirds? Who hasn't watched a huge flock of Canada geese flying in a V-formation? People can thank hunters for all of it.
Simply by purchasing hunting licenses and hunting gear, hunters raise millions of dollars for wildlife. Those dollars provide professional wildlife management. They also create and improve wildlife habitat, not only for game animals but for every species.
All sorts of affinity groups stand for "pride" these days. Hunters should be proud, too. They have nothing to hide from those who do not understand our way of life. As a woman hunter you don't have to adopt an in-your-face attitude to show pride. But once you've learned what it means to be a hunter, and you've acquired some skills, and you understand what attracts people to hunting, and you have become a true conservationist, your worldview will be changed for the better and you'll have something to stand for. Stand tall with self-respect in being a hunter.
Conclusion
Many women experience a conflict between society's concept of being feminine and killing an animal. That first shot is a huge step for a woman. In my case, I launched an arrow at a big doe, and it was a watershed moment for me. It confirmed my new way of life — integrating what I truly believed with what I was now willing to do.
It was not an issue of nature versus nurture. In a split second, nature and nurture combined for me in a brand new way. I was caring for my loved ones by putting dinner on their plate. I was going to be able to stand on my own two feet in providing food for myself. Having decided to shoot has not made me less feminine or converted me into some kind of heartless critter killer. Both stereotypes I feared that sat on the tip of my broadhead staring me in the face that day.
Historically, many women have had to provide for their families while their husbands were fighting overseas. For example, during WWII women had to step up to put food on the table so their children and the elderly could survive — and they were still considered women. Those who expanded their points of view survived. Knowing how to hunt and take care of yourself is just plain smart. Why wouldn't you want to do it?
How do you get the woman in your life to take up hunting? Help her see how and why you love it. Help her see how she can be a welcomed and respected part of your team. Let her see, step by step, that by putting in the time she will get the results. Help her to be part of the big picture. I hope my journey helps spark a few conversations with the woman you hope to inspire.
---
About Tracy L. Schmidt: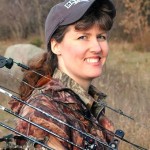 Tracy L. Schmidt is a certified master food preservation specialist and the author of the book "Venison Wisdom." Each of her recipes is tested and perfected. She is married to Daniel Schmidt, editor in chief of Deer & Deer Hunting magazine and host of "Deer & Deer Hunting TV" on NBC Sports. Tracy enjoys the versatility of Havalon Knives in both the kitchen and the field.
---
Click below to become a part
of the Havalon Nation!
[hs_action id="10664″]
2,625 total views, 5 views today