By Tracy L. Schmidt
That favorite woman of yours —
is there a chance she can become a hunter?
Part 1: Stereotypes, skills and stuffed animals
I am a hunter — but I did not grow up a hunter. As a kid I didn't know a single person who hunted, much less approved of hunting. You see, I grew up just 15 miles from Boston, Massachusetts, New England's largest city. We had many malls, restaurants, arcades and far more fast food and asphalt than 100-acre woodlots. Natural areas were for hiking and bird watching, definitely not hunting.
My perception of hunting was that it was completely unnecessary in these modern times, and what I knew about guns was what I saw on the news — gangs and crime.
That all changed when I moved to rural northcentral Wisconsin where hunting is thoroughly ingrained in the culture. Compounding matters, I enrolled at a university famous for its natural resources curriculum, which produced many hunting-related professionals. I soon discovered I had a lot to learn!
When I moved to Wisconsin, I vowed I would never date anyone who hunted. So much for the best laid plans. A few decades later I'm not only enthusiastic about hunting, I'm married to a key person in the hunting industry.
So what happened? Actually, quite a few things. Six concepts changed my thinking. I hope they will make sense to you as well, help you embrace this holistic lifestyle and give you the tools to get someone you know interested in hunting.
1. Break down the stereotypes
First, I discovered a huge misunderstanding — I equated hunting with wasteful killing. I failed to perceive wild animals as a renewable resource, as populations with the capacity to replace themselves. I also became acquainted with people who need to hunt to provide their families with food. I had never known anybody who ate wild game, so I never really thought of it as a food source. To me, going out to take a nature walk was hiking through some man-shaped "natural" area that wasn't natural at all. Hiking meant staying on the trail and being subject to a controlled experience passing through nature, and see a few birds, squirrels, chipmunks, turtles and an occasional snake. Hunting, by contrast, takes you off the trail and provides you with a completely interactive experience.
I also learned that many hunters donate deer to food pantry programs. With that kind of societal need for meat I learned hunting is not as simple as killing an animal for sport. I don't consider "thrill kills" justifiable. Yes, it happens, because every pursuit has both ethical and unethical people, so you can't judge those who do good by the actions of a few who do wrong.
A great way to begin changing attitudes toward hunting is by challenging stereotypes calmly, and by helping one other person understand why hunting is important. My husband, Dan, was very good at letting me talk about some of these issues and he let me know about venison-receptive food pantry programs and how important hunting is to feeding families.
2. Reinforce the required skill set
Another thing that helped motivate me to get into hunting was the technical challenge. Archery was a great way to start, and I began with a compound bow. Each night after getting home we would run out into the backyard and shoot targets. Dan challenged me to group all my arrows in a pie plate before I could hunt with him. He worked hard with me and as we practiced we developed as a hunting team. When I shot up my pie plate he was just as happy as I was.
I had never understood how much practice and preparation go into hunting. The skill required was impossible to dismiss after experiencing the process in person. The act of inviting someone to join you in practice where they can see how much fun you are having is a great way to break the ice. They will want to have fun, too.
3. Debunk the culture of animal personification
I was raised to think of animals as the warm, fuzzy, baby things desperate for our protection. Throughout our culture, many different forms of media have perpetuated this idea. Like many, I failed to grasp the huge difference between wild animals and pets until I moved to the country.
I had to stop thinking of the stuffed toy on my childhood bed as an animal and begin thinking about what predation in the natural world is all about. One thing that helped was going out scouting with Dan. He took me with him long before I headed out in to the field carrying my bow.
I remember scouting turkeys by sitting out under the pines at night. Dan hooted like an owl and the turkeys gobbled in response — very cool to observe and experience. If you want to get someone to go hunting, expose them to the natural world in ways non-hunters don't see. It's an amazing education to learn how to blend into the natural world around you. Without a doubt, good hunters have the best observation skills.
Don't miss Part 2 of "6 Ways to Get a Woman into Hunting."
---
About Tracy L. Schmidt: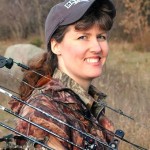 Tracy L. Schmidt is a certified master food preservation specialist and the author of the book "Venison Wisdom." Each of her recipes is tested and perfected. She is married to Daniel Schmidt, editor in chief of Deer & Deer Hunting magazine and host of "Deer & Deer Hunting TV" on NBC Sports. Tracy enjoys the versatility of Havalon Knives in both the kitchen and the field.
---
Enter our "Gear Up for the Hunt"
sweepstakes for your chance to win
the hunt of a lifetime! Click here: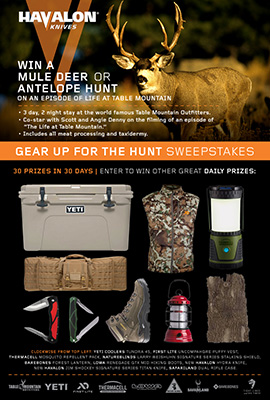 2,019 total views, 5 views today