5 Reasons Not to Build Your Own Treestand
By Steve Sorensen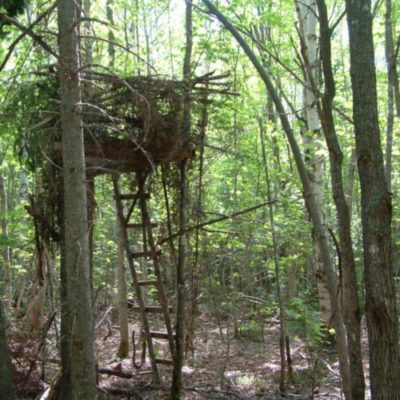 Have you ever built a treestand? Maybe you dream of a tree condo – 8′ by 8′ with a pitched roof, carpeted floor, sliding windows and a propane gas heater. Maybe even an easy chair to nap in and a hot plate where you can warm up your lunch. Ahh, the luxuries of hunting.
The treestand I built about 20 years ago – a folding ladder stand with wheels to make it easy (or so I thought) to move from one tree to another – was no luxury. It turned out much heavier than I expected and I struggled to set it up. I was younger and stronger then, and I doubt I could move it today.
Many of us have taken scraps of 2″ by 4″ boards, a piece of plywood and a few long screws and bolts, and fashioned our own death trap. Yes, that's the main reason I don't recommend building your own treestand. Here are five more reasons that support my view that homemade treestands aren't safe.
1. You're not a structural engineer.
Please forgive me, but you don't have the design experience to create a truly safe treestand. With the exception of a few creative guys who've inherited a structural engineering gene, you don't know what you're doing. Even commercial treestand designs have changed for the better (and safer) over the past few decades to correct design flaws that have led to accidents.
2. Commercial treestands aren't as expensive as you think.
While treestand designs have improved in recent years prices have dropped, for several reasons. One is low foreign wages. Good or bad, that's a fact of life in today's global market. Manufacturers can build treestands across the water, ship them to the United States in containers on boats, and the price is still much lower than treestands manufactured in America. You can now buy a ladder stand for well under $100. At that price they may not have the bells and whistles a top-shelf treestand has, but they are safe and serviceable.
3. Building your treestand is more expensive than you think.
Even if you're an accomplished D-I-Y guy, a few runs to the local hardware store for hinges, braces and ratchet straps will add up. Then you'll realize that bright new wood needs to be camo'ed up – there goes another $20 for paint. Before hunting from your homebrew treestand you'll need to fork over some money for a good safety system, so your total cost will almost surely be somewhere north of the price of a commercial treestand. Most treestands sold today come with some sort of safety harness, so you get more in that big cardboard box than just a treestand.
4. The odds are, you are going to fall.
For various reasons some hunters will still suffer tragic falls from treestands, even from commercial models. That's why treestand companies have insurance to cover their liability. And no matter how careful you are, or how strong, you're not invincible. The odds are you will suffer some kind of fall, and it will be your fault. The truth is falling is far more likely from a homemade treestand. Don't be that guy.
5. Treestand hunting is overrated.
I've had that lesson confirmed many times. On opening day in New York one season I was planning to hunt from a treestand, but couldn't find it in the dark. Rather than bumble around looking for it, I headed up the hill above the bench where the treestand was. I figured I'd wait until after daylight, and then find it and climb into it. That turned out to be a smart move because I heard a lot of commotion right where the treestand was – a buck was chasing a doe. I tooted on my deer call and here they came. I got the shot just as daylight was breaking. That's one example of many where I've had more luck from the ground than from treestands. The reasons should be obvious. A treestand is limiting. You can't move without noise and effort. If you're on the ground, you can move farther up or farther down the hill. You can move ten feet or a mile. You can adjust more easily for the wind currents and deer movements. I don't feel the least bit disadvantaged if I'm hunting from the ground, especially in the firearms season. Plus if you fall down when your feet area already on the ground, you might break something but you're not likely to die.
Several years ago my brother fell from a tree 22 feet to the ground. He wasn't hunting; he was trimming a tree in his yard. The fall shattered both his heels and changed his life. Several surgeries, months lying in bed, physical therapy, and special shoes put him back on his feet. He walks again, but short distances and never without pain.
When that happened I did a little research. In rare cases it's possible to survive falls from significant heights, but it's also possible to die from falls of only 15 feet – the average height of a treestand. If you don't die, you might break your back or spine. You might rip heavy internal organs such as your heart or liver and bleed to death internally in seconds. It's no joke – it really is that sudden stop that kills you.
If you want to hunt from a tree, get a good treestand built by a member of the Treestand Manufacturers Association, and use it properly. These folks care about your safety. In fact, go to the website at www.tmastands.com and educate yourself about treestand safety.
And remember, as important as it is to enjoy the hunt, it's far more important to enjoy the day after the hunt.
***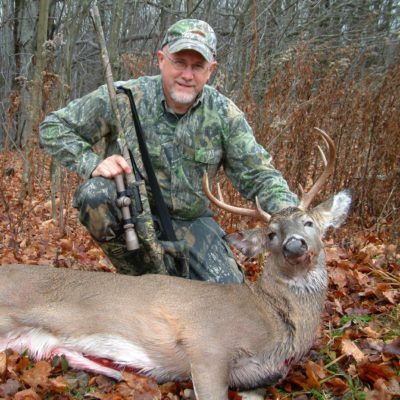 Steve Sorensen is known as "The Everyday Hunter." When he isn't hunting, he's thinking about hunting, talking about hunting, dreaming about hunting, writing about hunting, or wishing he were hunting. If you want to tell Steve exactly where your favorite hunting spot is, contact him through his website, www.EverydayHunter.com. He speaks are sportsman's events, writes for top outdoor magazines, and won the 2015 national "Pinnacle Award" for outdoor writing.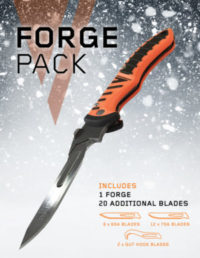 1,693 total views, 1 views today